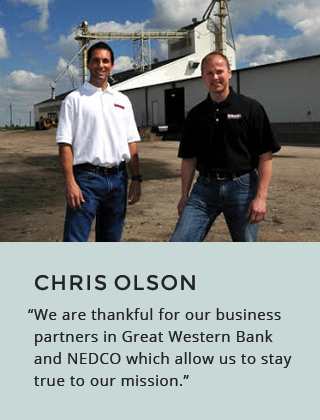 Nebraska Turf Products, Inc. Teams with NEDCO to Build a New Facility
Cultivating a business can be a challenge, but for Nebraska Turf Products, Inc. teaming with NEDCO was the perfect opportunity for growth.
Nebraska Turf Products, Inc. was started back in 2001 as a fertilizer sales company. Their first expansion came in 2007 when they purchased MAC Premium Products, a fertilizer manufacturing company. Taking this step has allowed them to both sell and manufacture fertilizer, and deliver products faster, giving them an upper hand against their competitors.
Chris Olson, owner at Nebraska Turf Products, Inc., found himself wanting to purchase a new building to increase retail exposure and get away from leasing. With the help of NEDCO and the 504 Loan Program, Chris was able to purchase a new location and expand the business to include mulch, sod, nursery stock, and annual flower sales.
"Property ownership certainly gives us the ability to be flexible and adapt to market changes while being true to our mission and vision."
An introduction to NEDCO came from Chris's long-standing partnership with Great Western Bank. "The relationship between Great Western Bank and NEDCO provided ease from application to loan closing."
NEDCO was able to provide a loan that offered a low down payment, low interest rates, with a fixed rate for 20 years. This allows Nebraska Turf Products, Inc. to remove the variable of interest rate risk and make cash flow more predictable.
"We are excited about the future of our business."
Learn more at www.nebraskaturf.com.