FINANCING WITH NEDCO BRINGS SECURITY AND OPPORTUNITY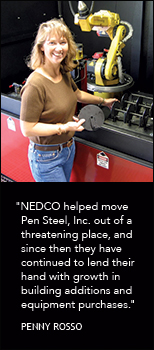 Working with NEDCO was nothing new to Penny Rosso who is third generation owner and president of Pen Steel, Inc. in Omaha, a company that supplies components and materials to the steel manufacturing industry. In 2009, they relied on NEDCO to help them stay strong in a volatile economic environment. Five years later, NEDCO has assisted Pen Steel, Inc. in the continuation of growth by way of low down payments and low interest rates fixed for 20 years.
"First National Bank of Omaha initially introduced us to NEDCO," said Rosso. "The NEDCO staff explained how small companies like Pen Steel, Inc. can benefit from their programs. Their staff continued with patience and encouragement to see our company through all the paperwork. The fulfillment of this is rewarding."
As manufacturing jobs moved back to the United States from overseas, more opportunities in Robotic Welding arose. With the help of NEDCO, Pen Steel, Inc. was able to expand with a 6,000 square foot addition, purchase a Trumpf laser, and a third robotic welding cell, all in 2013 with more equipment purchases planned for the next year.
For more information about Pen Steel, Inc., visit www.pensteelinc.com.