TREKK DESIGN GROUP FINDS PERMANENT HOME WITH HELP FROM NEDCO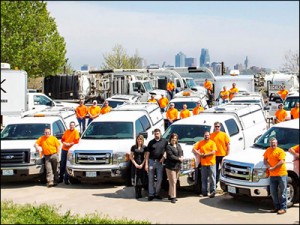 Co-Owners of TREKK Design Group, Trent Robinett, Kimberly Robinett, and Kim Pemberton wanted to find a permanent workspace for their engineering company to give them a firm foundation.
Trent, Kimberly, and Kim began as three students at the University of Missouri dreaming of one day co-owning a business together. In 2002, Trent started a firm that offered engineering services to local communities and developers in the Kansas City area. The next year, Kimberly Robinett and Kim Pemberton joined the team bringing more opportunities to expand their firm's offerings.
Due to their quality work and support services, TREKK Design Group has seen sustained growth in their local Missouri and Kansas areas and have even expanded into the Omaha, NE areas. As a result, they teamed with NEDCO to purchase a permanent location for their company in Omaha. With NEDCO's help, they were able to get an SBA 504 Loan with a low down payment and low and fixed interest rates, making the loan process quick and easy.
For more information about TREKK Design Group, LLC, visit www.trekkllc.com. Learn more about SBA 504 Loans at www.nedcoloans.org.